Listing on BookAngel:
---
She's the One Who Thinks Too Much (The War Stories of the Seven Troublesome Sisters Book 1)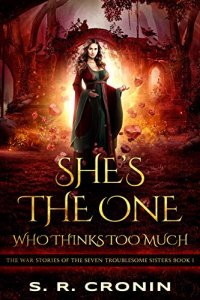 Last Free on: 4th Jun 21
Read More

... a light and enjoyable fantasy which fans of the genre will enjoy ...
Ryalgar is the eldest of seven daughters, most of whom seem to have some kind of special ability. Her country of Ilari, is under threat from the advancement of Mongol Hordes, who have started to invade and conquer nearby countries. Rather than marry she, instead, joins the Velka, witches capable of some magic, to further develop her powers and to avoid having to find a husband. This is further complicated by the fact she is secretly the Prince's mistress as they meet from time to time away from prying eyes. When the Mongol hordes do appear, they are told to either provide tribute or have the land razed to the ground. As the royalty of the kingdom try to work out how, or even if they should, fend of the incoming horde, Ryalgar starts to make plans for how th4y can be defeated. Not through strength of arms, but by magic and cunning. But she can't do this alone, and once she starts planning, the Velka, her sisters and her lover all become embroiled. As time ticks on the stakes get higher as she tries to think of everything the enemy can do and work out how to beat it.
This is a fantasy set in an approximation of Dark Ages Europe, with Ilari being a fictional country in the Balkans area, with it's own structure and method of keeping time. Europe was invaded by the Mongols around 1220 AD, so this helps to differentiate it from a straightforward historial novel. One thing that does surprise me is just how tiny this realm is, at about 40 miles in length by 30 across by the map given. But within this country there are several thousand people. This may seem realistic for a modern day, but not Dark Ages Europe, where the population was far lower. World-building nitpickery aside, this is still a fun book to read. It doesn't slow the pace from start to end and the challenge of facing an outside enemy as the main plot, while dealing with Ryalgar's love life as secondary one, means the focus is always where it needs to be. The writing is easy to follow and the easy going style helps to keep the reader's eye on what Ryalgar is trying to accomplish. While it seems to be missing some private goals and strife for Ryalgar to overcome, this is a rare book where what matters is what she sets out to achieve. Not at a personal level, but for the country she lives in. The grammar and layout for the book are fine, with some useful appendices about the country, the times and common words being used as well as a list of the major persona in the story. The spelling is fine, although several of the names given to things do amuse me somewhat, i.e. oomrush being the used name for telekinesis.
This is the first in the series of seven books each covering one of the sister's of the family as they all play their part in trying to foil the invasion. I will say that including each of them them in this book and giving hints as to what their individual story might be is a bold move and I hope that it plays out in the future stories. At the moment the stakes do not feel high enough for the novel, although they are hinted at, and I am hoping that the grimmer reality of what is approaching will help to provide a sterner backdrop to them.
Overall, this is a light fantasy which most fans of the genre will enjoy and if you are looking for female heroes, this one appears to have several title characters all waiting to take their turn in some way.
Rating:
3
Reviewed by
Reviewed on:
2021-12-30
Review Policy: No compensation is received for reviews. View our Review Policy here.