Listing on BookAngel:
---
Tales of the Eastern Dagger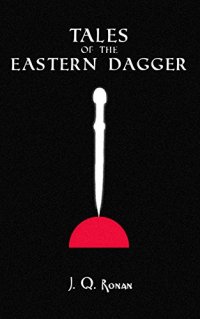 Last Free Dates: 28th May 17 to 1st Jun 17
Read More

...An intriguing set of stories that make me curious to read more....
Lanela is the King's Hand, a highly trained assassin and dedicated to doing his bidding. However, she is surprised by his latest mission to journey to a foreign land and train under his finest killer, the Eastern Dagger. While there, she finds that not only is her training no match for his, but that his thoughts and actions can be opposed to those of their master. To someone whose only thought is to obey or to kill, Lanela finds that she is having to unlearn just as much as she is learning. The three short stories cover Lanela's introduction to the old soldier, as well as showing how he operates beyond the realm of his master and how he expects her to learn. Whether it be local troubles or dangers from further afield, it matters become more complex when the implications can be shown, for both of them and the kingdom she serves.
Tales of the Eastern Dagger is an intriguing set of stories that make me curious to read more about her. In an Arabian nights type setting, the stories are as much about thinking through the problems as the action that surrounds them. The plots are well written and help to engage the actions of the characters and push forward what the training is about. The writing is descriptive, the characters come to life on the page through their motivations and actions, not from being told how good they are and the details of the settings, what is noticed, what is hidden help to bring the scenes to life.
The only main downside to this book is that it is so short, but the little glimpses of the setting it sets an excellent scene both in terms of place and person.
I would recommend this for reading, especially if you enjoy this genre of work.
Rating:
4
Reviewed by
Reviewed on:
2017-01-13
Review Policy: No compensation is received for reviews. View our Review Policy here.