Listing on BookAngel:
---
The Cottage at Hope Cove: A wonderfully uplifting holiday romance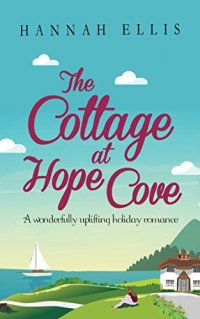 Last Free Dates: 10th Aug 18 to 14th Aug 18
Free Today!
Read More

...An excellent example of the genre and those looking for a happy ever after romance should give it a read...
Elizabeth Beaumont has a steady job and was to be married to her partner Phil while putting up with her younger sister Josie. However the break they planned together goes awry when Phil is unable to go due to work and Liz has been challenged by her boss to go the whole time without looking at her emails. So Liz heads away for the break, to Hope Cove, and finds herself charmed by both the area and her neighbour for the next few days, Max. Liz suddenly finds herself, not just falling in love but evaluating her whole life. At the end of the week she finds that her life is not what she wanted, but as she is getting married leaves without confessing to Max, who is in the same situation as her. But on her return, when she turns her life upside down, she finds her thoughts drifting back to Hope Cove and Max over and over again.
This is a wonderful relaxing romance to read through from start to finish giving exactly what you would expect in the genre. The characters are by turn funny and relatable, with each playing the part they need to to help Liz on her journey. The plot ticks along nicely from the setup of the humdrum lifestyle to the choices the characters each make and how it quickly shows how different a life can be on reflection. The writing shifts cleverly between everyday tedium to the wistful holiday to the effects of Liz's choices as she decides what to do with her life having made her decisions and how it impacts those around her. Spelling and grammar were fine, I didn't notice anything obvious that detracted from the story.
My only slight nitpick would be the some of the reasons for the miscommunication at the end, with some new things being suddenly introduced, but the story is more than enjoyable enough to overlook those things.
Overall, this is an excellent example of the genre and those looking for a happy ever after romance should give it a read.
Rating:
4
Reviewed by
Reviewed on:
2018-09-13
Review Policy: No compensation is received for reviews. View our Review Policy here.