Listing on BookAngel:
---
The Sleeping Ones: A Post-Viral Apocalyptic Short Story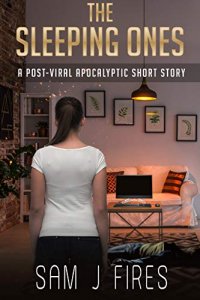 Last Free Dates: 25th Oct 21 to 27th Oct 21
Free Today!
Read More

...a good short horror with the potential to be great, but let down by structural issues...
Sally sits alone in a room, her mother dead beside her, her father dead outside. Her laptop, her only company, flares to life with connections from other survivors around the world. Four people sharing their last conversation before the power dies for good.
It is an interesting premise, brilliantly explored through the medium of four people simply talking. The details of the world come out through their stories, and through what they now accept as normal. Before the final signal fades, a few words can change the course of some lives – but not others.
It is gripping, it is atmospheric, it held my attention, and sadly, it is not perfect.
The formatting of the story is readable, the cover a generic photo version that is serviceable enough. The writing, where it is in third person close, conveys Sally's thoughts and character quite clearly.
Where it falls down, in my opinion, is the structure. The novellete is in three chapters, but isn't long enough to need them and the last chapter has a scene break which is the only one in the book. Now, Chapter One is less a chapter and more a standalone description of the world's situation. It doesn't add anything to the story and it isn't needed to set the scene. If it was deleted and Chapter Two and Three were merged, you'd have a stunning short horror which really doesn't need chapter breaks.
There's a last paragraph at the end of Chapter 3 that changes point of view to omni and starts to discuss the global situation. It is seperated from the rest of the chapter by scene break asterisks, but honestly? In my opinion this is that rare story that should have ended a paragraph earlier. The last image before the break is a nearly perfect ending.
The aftermatter is extensive – a free gift offer (which is an exact repeat of page 5), more books by this author, a request for review, and a two page author bio. There are also several blank pages, possibly due to formatting issues.
Overall this is a good short horror with the potential to be great, but let down by structural issues. Horror fans may want to pick it up as a taster and introduction to this world.
Rating:
3
Reviewed by
Reviewed on:
2021-10-06
Review Policy: No compensation is received for reviews. View our Review Policy here.