Listing on BookAngel:
---
The Trinket Box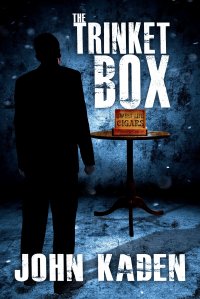 Last Free Dates: 12th Jun 21 to 16th Jun 21
Free Today!
Read More

...A stunning piece of horror writing. When I finished it I went for a two hour walk. Then I recommended it to the rest of the group...
The book starts with Milton Brooks, widower, pensioner and facing one of the worst diagnosis a person can receive: Altzheimers. He progresses through shock and denial to trying to cope, to somehow fight it with routine and notes, but as the disease progresses he finds reality slipping further away from him. His only anchor is an old cigar box of trinkets that he found after his wife's passing. Then he begins to find notes that he didn't write.
The story starts by tearing your heart out and stamping on it. Milton's attempts to fight Altzheimers, to keep some degree of sanity, are sympathy-evoking and heart-wrenching. The story, like the disease, is merciless. Towards the second half when the supernatural and odd events began to occur, it was almost a relief from the sheer horror.
The problem with the book is that the second half is weaker. The horror of fantasy and the great unknown runs into the horror of real life fact, and the supernatural completely pales. All the ghost can do is kill you, while Altzheimers' takes mind and soul piece by piece while you are aware of it. The horror of ghosts is "What if this happened to you?" Altzheimers' is "This will happen to you, or someone you love."
There is another interpretation of the story possible, which to my mind makes it worse: that there is no supernatural and Milton is simply succumbing to the disease as it steals reality away. No matter your interpretation, this is a thought-provoking piece of writing, blending real-world horror with that outside it to produce something that is an absolute page turner. Good luck putting it down.
The writing is excellent, and tear-jerking. The moment he finds his wife's photograph with the sticky note reminding him that she has died was also a moment when I took a break from reading. When I finished it I went for a two hour walk. Then I recommended it to the rest of the group. I'm giving it a four because of the ending, but it is still a stunning piece of horror writing.
Rating:
4
Reviewed by
Reviewed on:
2016-08-31
Review Policy: No compensation is received for reviews. View our Review Policy here.