Listing on BookAngel:
---
The Witch with the Wonky Broomstick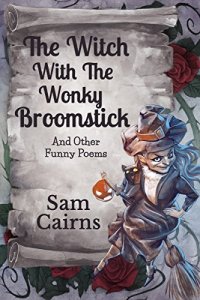 Last Free Dates: 5th Jan 22 to 7th Jan 22
Read More

...A set of children's poems who will appreciate the humour...
The book has a nice cover with a table of contents linked to each of the poems, though the individual poems are not linked back to the contents. Each of the poems is neatly set out with title and associated image to give a little visual colour to each of them.
The author introduces himself with the first poem, a short, quirky four line stanza. While it flows and the author's surname was the only true break as I could not pronounce it, it did show one issue that is the lack of punctuation. Each stanza has a full stop at the end, but the commas that usually ends lines are absent as is the full stop on the second lines of stanzas one and three. The rhyme scheme is a straight 2 & 4 style, and read out loud it runs well. While the poems are humorous and inoffensive, by the second poem, I had seen one comma.
Each poem starts short and easy to follow, but in places the flow breaks with long sentences, perhaps due to issues with the meaning and constraints of the form and the use of "friend-el-eee" to force a rhyme is strained. The subject matter of the poems is puerile and contains plenty of toilet humour. There is little in the collection for adults, but as this is for children, that means it is perfect for it's audience and should keep them well-entertained. There are some lines which are not appreciated. "Acting like a girl, made me feel so daft." is not a message to share. Finally, he does ask for a review request, which is amusingly in poetry as well.
From horrid children to all sorts of monsters, the topic of each one varies and with over twenty poems, there is plenty of reading material, certainly if used for reading to younger children at night, who are likely to appreciate them.
Rating:
3
Reviewed by
Reviewed on:
2022-01-13
Review Policy: No compensation is received for reviews. View our Review Policy here.