Listing on BookAngel:
---
The Wonkiest Witch: Wonky Inn Book 1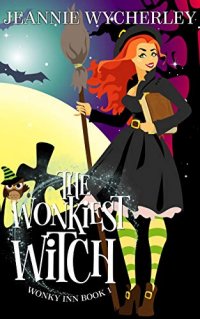 Last Free Dates: 17th Jul 19 to 21st Jul 19
Read More

...A light-hearted cozy mystery that should scratch an itch for those fond of them...
When the mother of Alfhild Daemonne (Alf for short) dies, she finds that she has inherited her parent's estate. Far from her little flat in London, she is now the owner of a large piece or land, a small wood, several houses and a dilapidated Inn. Giving up her current life, she heads to Devon to renovate it, where she finds that while some of the locals are welcoming, some are less so. This is not helped by the discovery of a dead body at the back of the inn. While the police investigate, she sets to work, fixing the inn up with the help of local handyman Jed. But though she has spent several years not practicing witchcraft, it seems her past is not so easily left behind. Her parents may have been powerful, but she is well out of practice and dark magical forces are gathering against her. It's time for her embrace her heritage and put her powers to good use.
This is a cozy mystery set in a sleepy little village with a healthy dose of light Wicca and witchcraft thrown in for good measure. This is a light read and easy to skip through the pages without too much effort. The plot is fairly breezy and take little effort to follow as Alf struggles to deal with the inn and the events around it. The characters are a little on the shallow side, but are an eclectic mix with more thrown in as the book progresses. While having such a growing cast is interesting, it does dilute the situation especially towards the end of the book. The writing is actually great for the genre, pulling the readers along with ease, descriptive where it needs to be and being obvious by and large in explaining what is happening.
The biggest issues I have is that Alf is fairly reactive to the situation until forced and most of the important plot items going on are being controlled by other people behind her back, with her time is spent more in dealing with the inn than the murder. Also, a lot of the means and motives are exposited to the readers if they didn't notice it. Also this is one of the few books featuring magic with no cats, although I will admit that the owl more than makes up for it instead.
It's a light-hearted cozy mystery that should scratch an itch for those fond of them, with a sequel available if you enjoy it.
Rating:
3
Reviewed by
Reviewed on:
2019-08-14
Review Policy: No compensation is received for reviews. View our Review Policy here.