Listing on BookAngel:
---
Ticket to Tulsa: Prequel to Living in the Middle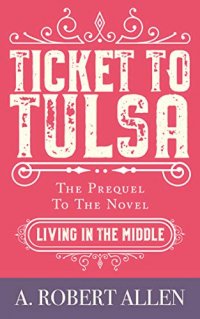 Last Free Dates: 25th Oct 20 to 29th Oct 20
Free Today!
Read More

...A good book to get a feel for the writer's style and understand the setting for the main novel...
James Montgomery expected his life to be easy cming from a wealthy family in New York at the turn of the 20th Century. But when his parents both pass away, he finds out the truth of his now precarious situation. Due to lavish spending and unfortunate investments, there are no more millions to live off and James has to cut back and sell off in order to keep going. But when he receives an offer to be a partner in an oil drilling operation, he jumps at the chance and leaves New York for Tulsa. While there he rents a house and meets Glory, who comes to keep his house and for whom he falls for. But he quickly finds out that not only has he been swindled, but that Glory is now pregnant with his child.
This is a short story prequel setting up the events of "Living in the Middle". Set in the 1890's, the plot is fairly simple, sketching out the most important events that lead up to the main story. The characters are interesting and almost too modern in James' and Glory's case. James is also not the smartest person in the world and is consistently on the back foot as people take advantage of him. For a short story, the writing does set the scene and quickly help to define the characters with the fine points and flaws. The book is neatly formatted and I didn't see any spelling mistakes through the story. It was easy to read and aside from a couple of things that seemed jarring, it was a enjoyable to read. Watching the mistakes and reactions of the characters and how it drives them helps to pull the reader through the story, even when they know what is going to happen
While both are strong characters in their own right, the book intimates they sleep together on their first night. Given their respective backgrounds, this doesn't feel true to the time and place in which the book is set, but that is just my opinion. The other issue I have is the large time gap in middle of six months where it seems that James and Glory do very little, while the issues slowly rumble in the background. It would have been good to know what happens in the interim, but it is glossed over.
Overall, this is a good book to get a feel for the writer's style and understand the setting for the main novel.
Rating:
3
Reviewed by
Reviewed on:
2020-10-29
Review Policy: No compensation is received for reviews. View our Review Policy here.