Listing on BookAngel:
---
Unscrambled Eggs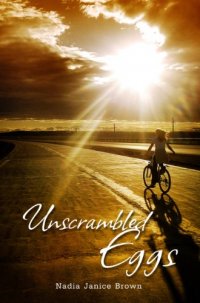 Last Free Dates: 22nd Jun 20 to 26th Jun 20
Free Today!
Read More

...Readers of modern poetry may enjoy this, and the themes of alienation and aimlessness may well appeal in these times....
Unscrambled Eggs is a collection of poems that came out in 2005, with Becoming, the author's second collection following in 2011. Given that Becoming has higher ratings across the board, Nadia Janice Brown seems to be growing as a poet, but there are definitely things to admire in this first collection.
The author is upfront about the religious influences on her work, with a Bible quote to open her preface. The main themes are disconnection and alienation from society, a hankering for the past as it is seen from nostalgia, not as it was. Adding variation are scattered poems like Unforeseen Affair, the sad results of confronting a partner.
Her style is modern, using lyrical short prose lines rather than rhymes (think Seamus Heaney rather than Auden) and there's a lack of punctuation at the end of lines. In general, the poems are short, only two or three stanzas and less than one kindle page.
For those who enjoy modern poetry, this is worth a read. Certain works have a beautiful turn of phrase, like The Writer:
Where days are no longer trusted
And nights don't care much for anyone
That said, there are reasons this did not hold my attention as much as some other poets. The themes are repeated so strongly and often throughout that several of the poems began to blur into each other. There are, no matter how different the words, only so many ways a person can suggest that procrastination is bad and the reader and viewpoint individual should go out and do something. Because of this, the collection began to lose impact for me as there were no tonal shifts or highs and lows to contrast the works and make them stand out.
There is also the stylistic limits. While the length of the line changes, the author's style of prose work does not – with the exception of the straight paragraph prose of the lament "Before I knew better". I would have liked to see something that stretched her slightly; perhaps a haiku or long form work to show how she handles work in this range.
Despite those complaints though, there are gems here, such as 'Before', an outstanding ode to love. As a first book of poems, it suffers from a slight lack of polish, but that is a very standard issue.
Readers of modern poetry may enjoy this, and the themes of alienation and aimlessness may well appeal in these times.
Rating:
3
Reviewed by
Reviewed on:
2018-07-17
Review Policy: No compensation is received for reviews. View our Review Policy here.