Listing on BookAngel:
---
Your Blood Is A Lovely Colour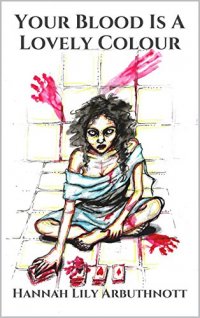 Last Free Dates: 28th Feb 15 to 4th Mar 15
Read More

...A well written urban fantasy that doesn't pull any punches in the horror that such a monster brings....
Sasha is a monster, an immortal demon who has spent the last several thousand years predating on humans. But hunger drove her to kill and eat several people in a small town, and she is now incarcerated in a research facility. Nate Chase is the young teenager who bluffs his way in to see what kind of monster she is, and unlike any of the other people she has encountered, is unafraid of her. When she escapes, Sasha decides that he is the only one in the town  she will not eat, and turns up at his house to seek shelter. As the police move in to try and find her, he has to work out whether he should turn her over to the authorities or keep her hidden and she has to decide whether she cannot resist her own natural instincts or if she can find another way to be free.
This is an excellent story with a well thought out monster at the heart of it along with all the implications of what it would mean. The characters are rounded, with their own fears and concerns of the situation coming to the fore and the overlapping effects of the initial massacre haunt them through the course of the book. The plot is well paced, as the situation becomes tense and decisions have to be made. In between the main story chapters, it is well interspersed with a second story from Sasha's past, which provides clues to the predicament they find themselves in.
The only issue I do have with the novel is that because it is split between two times, we don't find out that much about the town and supporting characters as we could, whether they are friendly or not. Also, there is a certain amount of point of view switching between characters that tried to keep the story focused on events instead of the characters.
Regardless, this is a well written urban fantasy that doesn't pull any punches in the horror that such a monster brings.
Rating:
4
Reviewed by
Reviewed on:
2015-03-23
Review Policy: No compensation is received for reviews. View our Review Policy here.