Listing on BookAngel:
---
A Tall Man Rides (The Hendershot Series Book 1)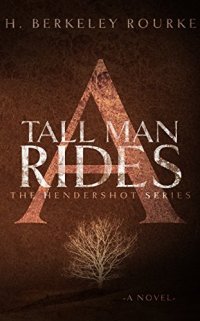 Last Free on: 5th Jul 19
Read More

...A descriptive cowboy story that fans of the genre should certainly take a look at....
Ross Hendershot has been many things growing up in the old west. From farm hand to barman, he has done many jobs and lived in many places since the end of the Civil War. Now he is heading for Yuma, where he has heard they are starting a branch of the Arizona Rangers to bring law to the land. While en route he finds himself having to kill a man in self-defence, much to the relief of a local town, but with the man's brother swearing revenge. After a further narrow escape, he makes it to Yuma, only to come to the attention of both the local sheriff and George Bonhomme, the owner of the largest hotel in town. George would very much like Ross to be his new hotel manager and enforcer, and offers a deal, to good to be true, for the role. Ross has to decide if he will take it or walk away. A difficult choice when it includes Flora, the beautiful prostitute he has come to love, but who is owned by Bonhomme.
This is a surprisingly relaxed and quiet read following Ross Hendershot's travels. The beautifully written long descriptive pieces of the area and local history fit the mood of a lone cowboy wandering the desert with little to occupy his mind other than the scenery. Ross himself is a quiet man, keeping himself more to himself, being respectful of those around and trying to stay out of trouble. Even if, occasionally, it finds him. The remaining characters are reasonably fleshed out, although there is a large amount of exposition on their back story to try and provide the extra detail, instead of seeing them act more in the way you might expect, but they are still more stereotype than cliché in the way they are portrayed. The plot itself is fairly simple and I was surprised that overall it was kept to a minimum with several parts seeming to repeat instead of progressing the plot. I noticed a few spelling errors and tense changes, but nothing too bad to put me off further reading of the story. One thing that did spoil it slightly was that it contains a few passages from the characters set several years into the future which removes any hints as to their survival in this, and possibly the following stories.
Overall, it was an enjoyable story and fans of the genre should certainly take a look and see if they like what they read. If they do, there are several more stories in the series to enjoy.
Rating:
3
Reviewed by
Reviewed on:
2019-02-08
Review Policy: No compensation is received for reviews. View our Review Policy here.