Listing on BookAngel:
---
Before I Fade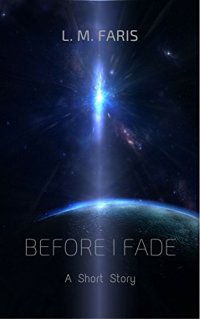 Last Free Dates: 17th Feb 21 to 21st Feb 21
Free Today!
Read More

... an excellent short sci-fi story for anyone who is a fan of the genre ...
On an seemingly deserted planet, three strangers start exploring the mineral rich environment. Unknown to them, they are being watched by the inhabitants, ethereal creatures, more thought than substance. But a side effect of the planet and the ongoing watching is to drive the visitors insane and one by one they perish. Following them is a single explorer, who has journeyed to find out what happened. As he tries to decipher what has happened, one of the spirits comes back to watch over him. Despite the warnings and chastisement from the other spirits, she makes contact with him, mimicking the form of a someone close he once knew. But when the meeting goes wrong, she is unable to return for a few days and by then it is too late, he is falling to the same illness as those before him. But he has decided that as a last act, the ship should return whence it came. Inspired by him, the spirit decides on one last action before he leaves.
An intriguing short sci-fi story that has plenty in the way of thought and feeling. The story has a simple premise, but the way it unfolds keeps a sense of mystery from start to finish. You are never quite sure what the spirits are or able to understand everything that is going on, but you still get a sense of what the events are and the feelings the characters have. As we are shown what is happening instead of just being told about it, we feel towards the explorers as the observers do in the story, allowing us to understand both sides. The characters may only be briefly sketched out, but are still individual in how they act in the situation they find themselves.
The formatting and grammar are fine and I didn't see any obvious spelling mistakes through the story. It was easy enough to read in one sitting making it ideal for a coffee break, although the thoughts and ideas the story told stayed with me for a while.
It's an excellent short sci-fi story for anyone who is a fan of the genre and is looking for a work that is a little more thoughtful.
Rating:
4
Reviewed by
Reviewed on:
2021-02-25
Review Policy: No compensation is received for reviews. View our Review Policy here.