Listing on BookAngel:
---
Boy and the Very Lonely Pony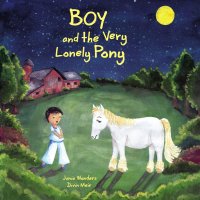 Last Free Dates: 7th Sep 15 to 11th Sep 15
Read More

...For the 4-6 age ranges, this is a lovely little book...with full colour illustrations reminiscent of The Snowman. ...
The story of a boy who likes looking out of the window, and one day sees a pony in a field that looks lonely. So he goes to make friends with it.
It is short and there's not much to it, but it is a lovely story for young children, particularly for a bed-time story. The pages are landscape, with full colour illustrations throughout and the text as part of those illustrations. The illustrations are worthy of comment – done in a pastel style reminiscent of "The Snowman" and fit the story beautifully.
While this book has no spelling, typos or other issues, it does have one problem with format because of it's unique layout. Sadly this means that the book could not be read by Kindle for PC (I had to use Cloud Reader, which is a pity). I'm not sure whether I should be deducting a point for this, but be aware of the issue if you buy it.
For the 4-6 age ranges, this is a lovely little book.
Rating:
4
Reviewed by
Reviewed on:
2015-01-10
Review Policy: No compensation is received for reviews. View our Review Policy here.