Listing on BookAngel:
---
Daughter of Kali: Awakening - Urban Fantasy (Demon Slayer 1)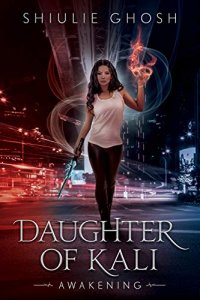 Last Free Dates: 18th Jul 20 to 22nd Jul 20
Read More

...a really fun read with an excellent take on the genre ...
Kaz Devi is young teenager, dealing with school life and a difficult mother at home. But when some children go missing in the local area and she sees the new substitute maths teacher as a demon, her reality starts crashing down around her. When she finds out that it is true and that her mother is a Warrior, sworn to hunt down demons, that things take a turn for the strange. Finding out that there is a hidden war going on, that a secret sect is responsible for protecting the world from demons and that her mother is actually the best they have just adds more complication. The stakes become even higher when it appears the demons have found a way to open a portal to give them free access to the world. Leaving Kaz and her friends caught up in the battle to prevent it happening, while trying to comprehend everything she thought she knew.
This is an urban fantasy that takes several influences like Buffy and adds it's own twist to the story. The story seems simple, but keeps unfolding new surprises and continues to escalate with each new chapter. Taking it's background from Indian culture and faiths, but intertwining others as well, it feels like a fresh take on the stories that keeps a superb balance between the old and new and how the characters interact. It also touches on several themes of racism and culture which help to ground the book in the everyday. The highlight of the book is the characterisation and dialogue between the characters. Each of them brings something different to the story and it also manages to call out several tropes during the course of the story, all of which add to the fun. The interplay between them isn't just limited to taking on demons, but touches on themes of family, friendship and loss that only adds to the stakes they face. It helps that the story is descriptive and clever, making use of the genre but also expanding it to give a real feel to what they face.
The only minor gripe is that character of Em, who seems overly-capable of all things internet and that once again, people in power always do stupid things in the present to cover up stupid things they did in the past. Even if it might mean the destruction of the world. But these are still minor nitpicks.
This is a really fun read with an excellent take on the genre and I'm certainly interested to find out what happens in the rest of the series.
Rating:
4
Reviewed by
Reviewed on:
2020-09-04
Review Policy: No compensation is received for reviews. View our Review Policy here.