Listing on BookAngel:
---
Deadly Coast (A Tom Dugan Novel)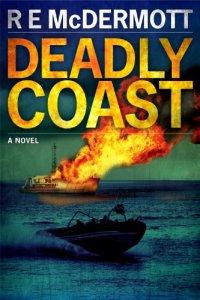 Last Free Dates: 17th Apr 16 to 21st Apr 16
Read More

...gripping, fast-paced, and action-packed, with a truly international feel...
It was a simple scheme for pirates: attack ships, take hostages and be paid ransoms by the insurance and owners. Then the terrorists got involved, the military followed, and everything quickly became far worse. When ransoms may not be paid by international law, the hostages' lives are now in jeopardy, but they are no longer the concern. A second world war lie has caught up with the present, and what the terrorists plan will kill everybody…
This is a fantastic action thriller that had me on the edge of my seat several times as the ship owners' group of Russian pirate hunters, the US military, Korean fishermen, International pirates, terrorists, CIA agents and more clashed. No one is who they seem, double and triple agents about, and lies are the order of the day in both the past and present. Make no mistake, this book has a body count. It is brutally realistic in its treatment of hostages, and in that the pirate hunters can be nearly as bad as the pirates. One of the best things about it are the factions: The ship owners, military, crews, pirates, and terrorists all have their own agendas and none of them are working together.
The plot is tightly written and moves fast. I didn't spot any plotholes, and I went back looking. I did spot one spy early on, but I didn't guess exactly who he was working for until he dropped his cover. I will also give it credit that it isn't a simply matter of race or religion equalling good or bad and all the characters – even the fanatics – are generally believable and consistent with a degree of depth to them. While all the characters have history, sometimes which comes up in the worst possible times, there was one definite standout character for me, US Army Special Forces Sergeant Ahmed, although saying why would involve major spoilers.
One very nice touch were the end notes, where the author states the real history of the world war two ships and u-boats named in the text, and corrects any historical misapprehensions that may have occurred. There aren't many female characters, but Arnett is capable and manages well in awful circumstances.
Its a four: gripping, fast-paced, and action-packed, with a truly international feel.
Rating:
4
Reviewed by
Reviewed on:
2017-05-30
Review Policy: No compensation is received for reviews. View our Review Policy here.