Listing on BookAngel:
---
Diabolical DC: Humorous Cozy Mystery - Funny Adventures of Mina Kitchen - with Recipes (Mina Kitchen Cozy Mystery Series - Book 6) (Mina Kitchen Cozy Comedy Series)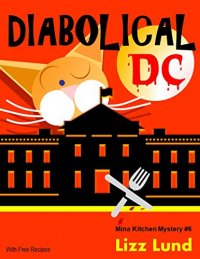 Last Free Dates: 14th Oct 23 to 18th Oct 23
Read More

... A highly enjoyable cozy mystery that hits all the right spots....
Mina Kitchen, chef's assistant at the Squirrel Run Acres, wins a spot as a guest on a cookery show. When the cook and presenter is declared dead, Mina finds herself as the star of the show, much to her horror and surprise. When it proves a popular episode, the producers look at Mina being their new star and set wheels in motion. With an impending TV deal, and the associated benefits like a new place to live, Mina has to contend with her new circumstances and the effect it has on those around her. Or more accurately, she is doing her best not to panic, while her friends help to sort things out. Things take a more serious turn when she starts receiving packages containing animal parts and threatening letters, and the head of the TV station is found dead. Despite these little hiccups, everyone is determined that Mina should take the opportunity, despite Mina's reservations.
This is a great cozy mystery with just the right mix of murder and mayhem, while Mina tries to balance her life and insecurities. The plot is as breezy as you would expect, with Mina just happening to be caught up in yet another set of murders through no fault of her own. The easy style of the writing makes it easy to turn from page to page waiting to see what happens next, whether it be the murders or how Mina is trying to cope with her intriguing life. Characters from earlier books are the same as always, with their brief intros bringing readers old and new up to speed. It's nice to see that they are consistent from book to book and each of the large cast list are given time to shine.
The by-play between them and Mina, and also amongst themselves, helps to flesh out the world around and bring life to the story. I didn't spot any spelling or grammar errors while reading, and the book is well formatted.
This is an ideal book to read over an afternoon or two, an enjoyable story that fans of cozy mysteries should enjoy as well as giving several supplemental recipes from the book at the end, just for good measure.
Rating:
4
Reviewed by
Reviewed on:
2020-06-18
Review Policy: No compensation is received for reviews. View our Review Policy here.