Listing on BookAngel:
---
Discreet Fling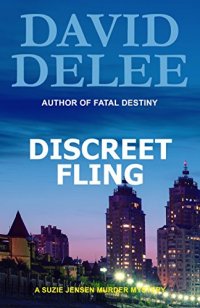 Last Free Dates: 3rd May 19 to 4th May 19
Free Today!
Read More

...This story is ideal for someone looking for a solid coffee break read in the genre....
When Sheriff's Deputy Suzie Jensen finds herself answering a call, it's apparently just another murder. However, when special agent Booker turns up she finds that this is likely the work of a serial killer. The victims, all women, had signed up with the same dating agency, Discreet Fling, for people looking for an affair. In order to try and stop the murders, Booker arranges for Jensen to go undercover with a fake profile designed to draw out the murderer. Then comes the hard part of narrowing down the suspects, putting Suzie in danger as she tries to discover which, if any, of the people she is meeting are responsible.
Discreet Fling is a short crime thriller story which is ideal for a coffee break. The idea behind it is well executed, the characters fleshed out briefly, but succinctly and plot rattles along, giving the salient points and cutting out any dead weight in the story. In some ways, it's almost too fast and any tension is swept away as the story moves from one set piece to the next. However, you do get a good feeling for the characters, the descriptions are short and to the point and it is easy enough to follow along without too much thought. I didn't notice any obvious grammar mistakes and the book is well formatted. The other disappointment is that the book is short, a quarter of it being a preview of the next book. This gives an opportunity to see if you like the writing style and this may convince some to look at the longer novels on offer.
This story is ideal for someone looking for a solid coffee break read in the genre.
Rating:
4
Reviewed by
Reviewed on:
2018-02-06
Review Policy: No compensation is received for reviews. View our Review Policy here.