Listing on BookAngel:
---
Felipe Femur & Friends: Halloween Comic Vol. 1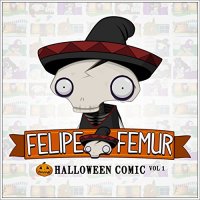 Last Free Dates: 20th Oct 18 to 24th Oct 18
Read More

...Quirky full colour cartoon strips on a set of fun spooky characters....
Felipe femur lives in Toonstone along with his friends of an assorted spooky variety. From a vampire who wants to get a tan, to a werewolf without any teeth, this is a selection of comics strips following them around as they live their lives, undead or otherwise. From trying on glasses to getting a sun tan, these quirky snippets are an enjoyable look at the characters.
The comic strips are in full colour and give an original feel to the characters. The humour in them can be enjoyed by all ages, although adults may find some humour in different ways to children. Each comic strip is only a few panels long, telling a quick joke before moving onto the next one. Some of the the jokes are repeated by the characters, but with different outcomes.
The main downside is that it is very short, and can be flicked through quite quickly, although with children, this will take a little longer.
This was a surprisingly enjoyable set, I would happily recommend something a little spooky for your children at Halloween. And if you do enjoy them, there are several other books about the characters for adults and kids to enjoy.
Rating:
4
Reviewed by
Reviewed on:
2018-10-26
Review Policy: No compensation is received for reviews. View our Review Policy here.