Listing on BookAngel:
---
First Impressions (A Grace deHaviland Bounty Hunter Story)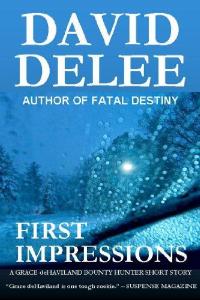 Last Free Dates: 25th Mar 21 to 27th Mar 21
Free Today!
Read More

...a good quick look at a new bounty hunter and one for fans of the genre...
Grace deHaviland, ex-cop and bounty hunter is chasing Colin Maynard, a fugitive who had jumped bail. After checking in with the local sheriff, Ritter, the pair of them head out to try and recapture him. Colin is staying at a local house where his girlfriend and son are living, and the two make their move to recapture him on a cold and wintry night. What they find there is more than they expect.
This is a short story introducing the lead character and giving the reader a taste of the further bestselling novels. The plot moves along briskly and the twists and turns are well placed to keep the reader interested in the story. The writing is descriptive and gives a quick insight into the characters and what keeps them motivated without over doing it. It was a good idea to keep the number involved to as minimum as it helps to focus on them and not be distracted. I didn't see anything wrong in spelling or grammar and it certainly kept my attention for as long as it took to complete.
The only downside to the story is that it is more of a coffee time read to go through and while I could see the appeal of the characters, there wasn't enough variety there to keep me wanting more. The story is open-ended enough that you can see what might happen next, and undoubtedly the novels will be richer in content.
Overall, a good quick look at a new bounty hunter and one for fans of the genre
Rating:
3
Reviewed by
Reviewed on:
2019-01-25
Review Policy: No compensation is received for reviews. View our Review Policy here.