Listing on BookAngel:
---
Midnight in Montana: A Risky Research Micro-Read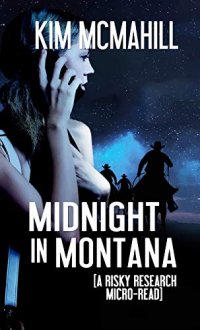 Last Free on: 1st Jul 22
Free Today!
Read More

...A great coffee break read for anyone looking for a little mix of crime and romance....
Devyn Nash is an FBI agent fresh out of training and is currently leading an investigation into a counterfeiting ring with fellow agent Ray Williams. While investigating with a local Sheriff, Gage Harris, at a rodeo they are suspicious of the prize money being handed out. As Harris has won, they take the prize money away to test it. Confirming their suspicions, it seems that all the prize money is counterfeit and being produced by someone associated with the rodeo. With this proof, they obtain search warrants for several properties and arrange for a mixture of deputies and agents to make the raids. While Williams leads one, Dyne leads the other being accompanied by Harris to a larger residence with several buildings. As they arrive and serve the warrant, the family decide to resist leading to a shoot-out starting. As the bullets fly, Nash starts looking around and finds what she is looking for, just as they find out the place is wired to explode.
This is a short, enjoyable, crime novella which quickly runs from scene to scene following the actions of the FBI. The plot is setup with the background quickly exposited before it continues onwards. The story is carried out from Devyn Nash's viewpoint through the story and her thoughts and feelings come across clearly, whether it's her youthfulness, her determination, or her confusion and slow growing feelings for Gage Harris. It really helps to carry the story along as the driving force behind the actions being taken. The other characters help to flesh out the story, whether it is her gruff partner or a Sheriff who is only to happy to help out. What also carries the story is the writer's descriptive pull, as it neatly sets out each scene and let's them flow into each other. There are few wasted words in the story, which helps to keep the pace up and feel as if it was a much longer story.
The story is well-laid out and I didn't notice any spelling or grammar mistakes. If you enjoy this work and want to read more in the series, then at the back of the book are several more stories from the author, .
Overall, I really enjoyed this work, both for the quick setup and the fast past through the story to it's conclusion. As a micro-read, it's a great coffee break read for anyone looking for a little mix of crime and romance.
Rating:
4
Reviewed by
Reviewed on:
2022-06-23
Review Policy: No compensation is received for reviews. View our Review Policy here.