Listing on BookAngel:
---
My Granny Writes Erotica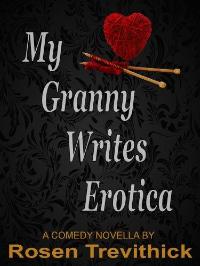 Last Free Dates: 2nd Sep 13 to 6th Sep 13
Read More

...a very enjoyable book with some excellent characters....
I was a little wary of picking this up given the title and not quite sure what to expect as content. I shouldn't have been. What I read was a hilarious cross between an English Farce and Fifty Shades of Grey.
When grandmother Betty Berry finds her life falling apart, due to an errant husband, a vicious mother in law and a demanding daughter, something has to be done and quickly. Desperate for money, she decides she needs to publish her novel, but finds it's unlikely to sell. But she does find out that erotica sells well and decides the only thing to be done is to join in. The only problem being that having spent several years in a staid, boring marriage, she has no idea what it is. All she has to do is find out, release a novel and rake in the money without anyone else finding out. How hard could it be?
Although shorter than usual, this was a very enjoyable book with some excellent characters. The situation of Betty slowly discovering a completely different world, one she is pretty much unprepared for, but one that everyone else seems to know about was very well done. The story was well paced and flowed well from scene to scene with no difficulty working out who was playing what part in each misunderstanding. Even the small amount of graphic language, as would be expected given the title, fits neatly within the novel. There are several funny moments within the novel, as it unfolds, which will keep you chuckling from page to page.
I would definitely recommend this for someone looking for a short, excellent farce.
Rating:
4
Reviewed by
Reviewed on:
2013-09-07
Review Policy: No compensation is received for reviews. View our Review Policy here.