Listing on BookAngel:
---
Once I Was A Soldier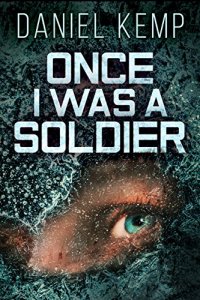 Last Free Dates: 1st Feb 19 to 5th Feb 19
Read More

...definitely one for fans of the genre, international, action spy thriller with lashings of sex and secrets...
As a young woman, Melissa Iverson finds that her parents have died leaving her a large fortune. Instead of supporting those close to her parents, she sells up and moves on leaving it behind for a more glamorous world. Terry Jeffries is ex-special forces whose trade is delivering high value items across continents. When he delivers her car to the South of France, they immediately click and start a long term affair. When she moves to New York, he winds up following her only to find that she is being threatened by a mysterious set of letters. Terry resolves to find out who is sending the letters and finds himself being dragged into more than he bargained for as he crosses path with his previous life. In return for helping them with a major diplomatic incident, they will help with is investigations, only for Terry to find that both strands are more inter-twined than he realised and that everyone is one step ahead threatening the life of the woman he has come to love.
This is firmly fixed in the action spy thriller genre with the lead character being ex-special forces, jet-setting around the world and having fantastic sex with lots of women. The plot is convoluted with twists and turns on top of itself and several false trails and diversions of the protagonists try to make sense of what is happening. None of the antagonists are to be trusted and everyone has their own plans and schemes that are slowly coming to fruition. The characters fit the archetypes you would expect, from worldly solider to naive little rich girl to scheming politicos to mysterious men in the shadows and we follow them, through varying levels of action and sex as they jet set around. The writing is lengthy and detailed, perhaps overly so on occasion, but you get a good idea of what is happening at each stage.
However, the plot is also very twisty and unless you manage to keep the threads together, it is quite easy to lose track of what is going on. Also I would probably class Terry as a sex addict who tries to jump into bed with everything female, usually succeeding, and providing the reader with yet more sex scenes to sit through. Finally, the biggest problem is that Melissa Iverson is not sympathetic at all. Everything that happens to her is as a direct result of her own actions, of which she only repents when they catch up with her, and by then it was too little too late. I found myself flipping through the pages to pick out the plot points and skipping the sex scenes as they are that common.
This is definitely one for fans of the genre, international, action spy thriller with lashings of sex and secrets. But for me, by the end, I was glad to have it made it through with some semblance of an idea of what had happened.
Rating:
3
Reviewed by
Reviewed on:
2019-02-28
Review Policy: No compensation is received for reviews. View our Review Policy here.