Listing on BookAngel:
---
The Soul Shepherd and the Threshold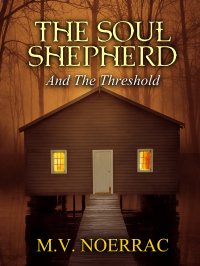 Last Free Dates: 23rd Dec 15 to 24th Dec 15
Read More

.....a genuinely good book, particularly for readers of paranormal and YA fiction....
Micheal is a psychopomp called a "Soul Shepherd", a being who helps the spirits of the newly dead reconcile to their deaths and guides them safely to their final fate. Noah, a teenage boy who died far too young, is his most challenging case yet. Noah isn't prepared for his life to be over, even though it has already ended. When he runs, not willing to believe he is dead, he is snatched by a demon, leaving Michael to try to save a child he can't find. This may be the first charge he is going to lose.
The relationship between Michael, the guide, and his charge Noah is touching and emotional. Noah's shock, his pleas to return and the reactions of his grieving family are realistic and emotional. Michael's pain and frustration that he could not help them and cannot avert the tragedies around him without tampering with free will is also believable. The slow reveal of Noah's death is nicely done, in hints and touches that keep readers hanging on for the next part of the puzzle. Michael's memories of past cases and duties build a background and personality despite his lack of memories.
In some ways it reminds me of a more serious version of "Dead Like Me". Once the plot grows more complex – with a murder-mystery to solve and more supernatural entities emerging – the background becomes slightly harder to follow, but the story is still gripping. Whether Michael will save Noah and his surviving family from a threat he cannot influence or stop is genuinely in doubt, and finding out why, who, and how is an intriguing read.
It's a genuinely good book, particularly for readers of paranormal and YA fiction. I thoroughly enjoyed it.
Rating:
4
Reviewed by
Reviewed on:
2015-11-06
Review Policy: No compensation is received for reviews. View our Review Policy here.