Listing on BookAngel:
---
The Christmas Angels!: The adoration and splendid service of the Angels, harkening to the tender voice of the Babe; Spreading the good News!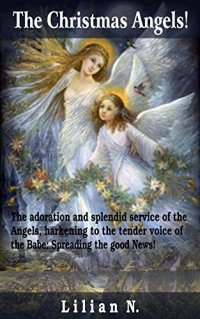 Last Free on: 29th Dec 16
Free Today!
Read More

...The sentiments may be appreciated, but the formatting, grammar, and layout are not. Please get an editor or proof-reader. ...
This is not a children's book. There is one story at the start which might be considered a children's story in that it is about children, and written with short sentences. However this isn't really an adult book either, given the standard and style of writing of the rest of the text.
The short story ends on 114 of 545.and the rest of the book is made up of Christian religious essays about the role of angels at Christmas.
The writing is not high quality and some sentences need puzzling out e.g. "He would therefore the angel stroke him and…" (loc 174). There are also grammar issues, particularly around speech where unclosed quotes again make the text confusing e.g. loc 186, and in the story where two apostrophes are sometimes used in place of double quotes. Later in the book, semi-colons run rampant (for example loc 234) and there are square brackets round a perfectly normal paragraph (loc 247). There are a few odd page-breaks, but as the essays continue straight over them they are less of a problem than the grammar issues and random coloured text.
By loc 300 when I read that Jesus came into the world "through a back door", I was still reading purely because this was not going to defeat me! The plea for a review is actually four fifths of the way into the book, not at the end, followed by reprints of the lyrics of Christmas carols and christmas poetry, all unattributed and with formatting that is all over the place.
Some of the artwork is Creative Commons. One of the rest is a Photoshop cut'n'paste halfway between awful and just disturbing. This is not up to the quality I would personally expect of a book that people are expected to pay for. I did suspect parts of this ebook – text and pictures both – had been cribbed from pre-written resources, and the attribution at the end pretty much confirms this. It ends with six links, presumably to places where the content has been cribbed from. However citing flickr.com and christmas-carols.net is not sufficient attribution as each individual resource (each picture, essay, carol etc.) should have its original author and creation date cited, not just the site it was taken from.
Sorry, I think this is one to miss. The Christian sentiments may be appreciated, but the formatting and layout are not. Please get an editor or proof-reader.
Rating:
Unrated
Reviewed by
Reviewed on:
2016-01-09
Review Policy: No compensation is received for reviews. View our Review Policy here.