Listing on BookAngel:
---
The Lollipop Flew Away: Detective Mike Sanse # 1 (Mike Sanse series)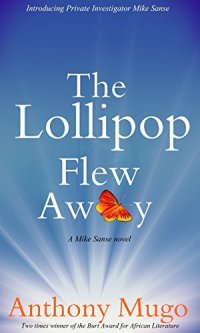 Last Free on: 9th Jun 17
Read More

...For anyone who likes reading mysteries to try and solve it before the main characters, this is one for you....
Mike Sanse is a down-on-his-luck, and often drunk, private detective. He was once one of the best on the force but matters changed that and he is now eking out a living drawing upon his previous skills. When notable businessman,Emilio Gitonga, is murdered, it appears to be an open-and-shut case for the police in convicting the businessman's son, Bob Thuo for the crime. However Bob's desperate wife, Grace, hires Sanse to find out what really happened as she does not believe he was capable of it. With time running out to pay his bills, this is a case he cannot afford to fail. But as he digs deeper into the circumstances of the murder, he runs headlong into old family secrets, long buried and now returned, where greed, deceit, adultery and blackmail all play their part, and he is forced to untangle mysteries, both old and new, to save his client.
This is a highly enjoyable read, a slow burner that picks up the pace as pages turn and as more secrets are revealed, both to the characters and the readers. The plot contains several clues as to what has happened, but the further it goes, then more details are revealed, fitting neatly together to provide a satisfying conclusion as the mystery is solved. The characters are an interesting cross section of where few of them could be considered good and they all have secrets to hide. They are all well described and their actions and motives are all in character as the story progresses. The setting not only adds to the mystery but is central to the plot in many ways and as such the descriptions of it are fortunately good enough to enhance the story, providing a fitting backdrop to the events.
Although set in Africa, the plot could be played out in many locations, but the author has neatly tied it in to the time and location and you get a feel for the area as well. I didn't find any issues with the spelling and grammar, and I found myself reading more of the story in one go than I expected to. In fact the further into the book I read, the more I wanted to know what was happening, who did what to whom and to generally unravel the questions the book was posing.
Overall, a well-written story I thoroughly enjoyed and the taster for the sequel did not go unnoticed either.
Rating:
4
Reviewed by
Reviewed on:
2017-03-07
Review Policy: No compensation is received for reviews. View our Review Policy here.