Listing on BookAngel:
---
The Raven Witch of Corfu: episode 1: A Greek fantasy romance book with a witch on Corfu island Greece (The Raven Witch of Corfu series)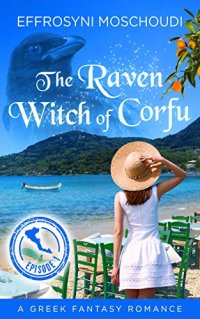 Last Free Dates: 24th Jun 21 to 28th Jun 21
Read More

...Romance fans might enjoy it, but it is a little too light on the fantasy for fantasy or urban paranormal readers....
Lizzie's brother was snatched by a witch, who promised to return him if Lizzie came back to Greece and visited the cave alone once twenty years have passed. Twenty years have passed, and now Lizzie is coming back for her brother.
Any expectations of a haunting paranormal story should be quelled by a glance at the cover and the genre description: ROMANCE. This is a romantic holiday tale with shades of the paranormal and very little threat. It is definitely fantasy and not horror, and the fantasy tag isn't just about the fantastical elements, its also exactly what the main character is doing about certain available males…
This isn't my type of story, and I quickly found myself losing interest as it didn't really seem to keep focus. After returning the Greece to get her brother back from the witch, Lizzie rapidly begins to focus on drinks, cocktails, sun, how wonderful Greece is, all of which would be fine, if she wasn't trying to save the brother she hasn't seen for twenty years. You'd think the second one might take priority, or at least merit a thought or two – particularly when she then after a few pages of this decides to muse on how much she dwells on her missing brother. Around halfway through she finally realises her priorities might be screwed, and I cheered.
For me this doesn't feel like a complete story. It feels like one chapter – what Lizzie accomplishes is not her goal, its just a step along the way and there's no real character growth or change. For a romance there's no developed relationship or happy ever after, and in wider terms there is simply no ending. Also while this is meant to be a folktale, it is realworld enough that the realworld problems it glosses over kept me from suspension of disbelief. (If Lizzie does get her brother back after twenty years, with no papers or identity, how is she planning to get him home? What are her visa terms?) However that said, it is a good sampler of the author's writing and while this chapter is free it is worth a look.
Formatting in general is professional. Aside from the conflict between description and cover art, there's no major layout issues but there are a couple of minor things. It's not a big problem, but whether the headings are section headers or chapters, it would be nice to have them on new pages. Instead they are just very large text between paragraphs. There are also section breaks consisting of four characters centered, which don't load on my reader (they are supposed to be the smash character, but it hasn't been embedded properly in the ebook).
Romance fans might enjoy it, but its a little too light on the fantasy for fantasy or urban paranormal readers. That might change later in the series though.
Rating:
3
Reviewed by
Reviewed on:
2019-04-03
Review Policy: No compensation is received for reviews. View our Review Policy here.