Listing on BookAngel:
---
The Shop on Peculiar Hill (The Vale of Strange Book 1)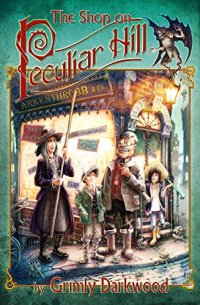 Last Free Dates: 2nd Dec 19 to 6th Dec 19
Read More

...An enjoyable children's book written with a whimsical sense of nonsense....
Peter has come to Peculiar Hill after his parents where kidnapped and eaten by tigers. He is staying with is Aunt and Uncle who own a shop selling all sorts of curious things to local village. A village which sits next to the Vale of the Strange and where bogeys and heeble-greebs and other bizarre creatures lurk, all caused by the effects of the area. After making friends with Amanda, who has a habit of both lying and telling the truth, Peter stumbles on the truth of what happens to the tourists who visit the area. When one child is left behind then Peter decides to rescue him, which doesn't go according to plan and leaves him little choice but to enter the Vale of the Strange.
This is a children's book written with a whimsical sense of nonsense. At first, very little make sense at all and you can find yourself as the protagonist trying to understand the area and it's inhabitants. By the end of the book, it all makes a lot more sense as you can see what is happening and why the villagers act the way they do. It still doesn't make some of their actions any more palatable. The characters are suitably nonsensical from the start, with Peter trying to do his best to makes any sense of their foibles and he, himself, providing a child's eye view of the situation.The problem is that by half way through when it still makes little sense, there is a temptation just to put the book down and walk away as there seems to be no plot or reason to keep following the story. Fortunately, by the end of the book, it rescues itself, so it is worth sticking with.
I'm not sure why it was given this title, given the shop is only a minor part of what occurs, but other than it's a good story for older children and upwards to enjoy.
Rating:
4
Reviewed by
Reviewed on:
2020-01-16
Review Policy: No compensation is received for reviews. View our Review Policy here.