Listing on BookAngel:
---
under the influence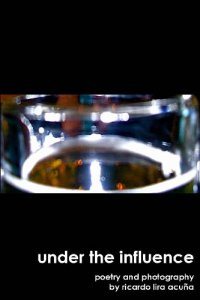 Last Free Dates: 11th Feb 19 to 15th Feb 19
Read More

...A talented - and adult-themed - writer, but the formatting lets this book and the poems inside it down so badly they are almost unreadable, and that is a very great shame....
A collection of urban-themed poetry in various languages, Under the Influence is a book I found hard to review.
The cover is basic – black frames, central image, and white text – but with poetry it has always been about what is between the covers. While it is rare for me to complain about formatting, the light grey used for text in the majority of the book makes some parts of the content almost impossible to read. In addition, the images used to head and sometimes bookend the poems are on the same line as the titles. This results in titles that are misaligned, and images pushed to the left. This could have been corrected with a line-break or page-break, which would have helped greatly with working out where one poem begins and another ends. The lack of a hotlinked table of contents does not make this easier. While the author may have an MFA in screenwriting, I would please request that they hire someone else to format their works for Kindle.
As a stylistic in certain works like "This world is for the dead, not the living" the author has added translations of words in brackets wherever he has used non-english words. While useful, this breaks up the flow of the prose, making it hard to read. A better method may have been a dictionary or translation guide at the back. Let the poem stand alone and the reader can look the words up if they need to. In certain poems, the entire work is translated underneath, which works far better.
These are not written in rhyme or metre, instead being structured and free-form prose pieces. The content of certain of these works is definitely adult, and this collection should definitely have had an adult tag. I suspect that, because it is poetry and because of the language issues, it was missed.
I am not a native Spanish or French speaker, though I speak and read both, meaning I am not the best person to judge certain of these works. However in English "I" should be capitalised unless specifically going for a certain very adult implication: as he is not, I suspect this is a grammar error.
The first poem could be incredibly touching with a last line, and associated photograph, that hits hard. Several of the English translations of works are poetry in their own right, and there is not doubt that this is a talented writer. However the formatting lets this book and the poems inside it down so badly, and that is a very great shame.
I am not rating this due to the linguistics and formatting issues. If the formatting were to be corrected, I would gladly give it another look.
Rating:
Unrated
Reviewed by
Reviewed on:
2019-03-19
Review Policy: No compensation is received for reviews. View our Review Policy here.