Listing on BookAngel:
---
We, The Lucky Few (The Surge Trilogy Book 1)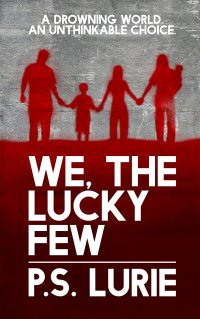 Last Free Dates: 16th Apr 21 to 20th Apr 21
Free Today!
Read More

...For lovers of YA dystopias, this is a good, original start to what looks like a promising series....
As the waters rise, there's a limit on who can be taken to safety. only one member of each family will survive.
This is a YA story that will remind some people of an extended version of the Purge and others of the standard dystopian futures. The 'everyone for themselves' aspect has been done before, but the story takes the time to build the characters, so that when they start dying you actually feel for them. In a slight spoiler, not everyone kills to save themselves, and there are more than enough cases of parents and grandparents sacrificing themselves to give children a chance. The different reactions in the families the story follows are what makes the story.
The writing is strong, and evokes the desperate state of the world well. There were a few questions the plot didn't answer for me (growing up in a fishing town, rising waters were a biannual thing anyway), but most readers especially in the intended age group would not have them. It is never made clear if this was just the US reaction and if other countries handled it differently. The characters are believable, particularly for their age. I don't mean they are perfect: they do stupid things for all the right reasons, but so do real people.
The main thing about this story is suspense: seeing who lives and who dies is nailbiting at times, and the final survivors are a surprise. It ends at the end of the night with the evacuation, which is not the end of the story but is a natural breakpoint so it is a good place to stop. There is more than enough ongoing plot to keep readers coming back for a sequel.
And with all of that said, I can't quite give it a four. For each moment of nailbiting suspense, there was one where I found myself skimming the book and it didn't quite hold my interest. It is the sort of thing I usually like, so I can't pinpoint exactly why, but the fact remains that it was one I put down and wandered away from a few times and never felt any burning urge to finish.
However, for lovers of YA dystopias, this is a good, original start to what looks like a promising series.
Rating:
3
Reviewed by
Reviewed on:
2017-04-09
Review Policy: No compensation is received for reviews. View our Review Policy here.