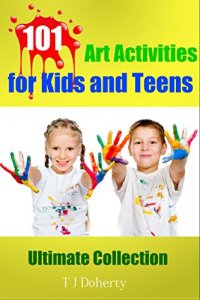 (ART ACTIVITIES: 101 Art Activities for Kids and Teens: Ultimate Collection)
Today, get this ebook for just $2.99. Regularly priced

at $4.99. Read on your PC, Mac, smart phone, tablet or Kindle device.
This is the ultimate collection of Art activities for kids and teens. Easy to read, understand, and packed full of activity ideas for wet weather, cold climates, classroom or home use. Understanding a balance of Core Curriculum influences and maximum engagement from children this ebook demonstrates a useful set of ideas put together by a school teacher with over ten years experience. It is the perfect reference for any general school or specialist teacher, Scout Leader, Parent, Guardian or budding artist wanting a useful set of ideas and activities for small and large groups.
Here Is A Preview..
(Drawing Activities)(Painting Activities)(Craft Activities)(Printing Activities)(Crayon Activities)(Charcoal Activities)(Mask Activities)(Diorama Activities)(Mobile Activities)(Puppet Activities)(Small Group Activities for kids)(Large Group Activities for kids)Much, much more!
Download your copy today!
Take action today for a limited time discount!
Tags: Kids Activities, Art, Activities, artist, craft, crafts, games, Activities for kids, Indoor Activities, Preschoolers, Teenagers, Party Games, School teacher, Scout leader, parent, Creativity