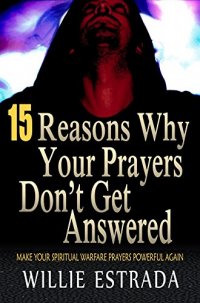 Free on 29th May 17



or borrow free on Kindle Unlimited.
No reviews yet.
If you're reading these words, you're probably looking for powerful prayers to throw at the devil. Maybe you're not getting your prayers answered, and you feel that you need a little boost, but did you know that no matter how hard you pray, or how well constructed your prayers are, what's going to actually give you positive results is the power of the Holy Spirit in you? Think about it.
Is the Lord moved by your words, or by the disposition of your Spirit? Your words can mean anything, but it's your disposition what God sees. Your actions will determine whether you welcome the Holy Spirit or not, and your prayers depend on that.
Let's not forget that God doesn't think like we do. He is omniscient, which means that he knows all science, therefore, He knows all things. He knows every word that comes out of your mouth before you even say anything. He also knows who you are and if your actions back each word that you say.
So before you continue searching for powerful prayers, shouldn't you be focusing on the power of the Holy Spirit in you?
Sometimes we make many mistakes that hinder our communion with the Holy Ghost, and this is the real reason why we don't see any results. In this book, we will take a look at 15 of the most common reasons why your prayers may not be getting answered. Today you will learn to detect those mistakes so you can benefit from this knowledge and make your prayers powerful again.
REASONS WHY YOUR PRAYERS DON'T GET ANSWERED:
You're Setting Your Sight in the Wrong Place
You're not doing what you were called to do
You're Not Declaring What You're Supposed to Declare
You're Still Living in the Dark
You're Not Participating in the Kingdom of God
Your Prayers May Have No Spiritual Purpose
There Might Be a Root of Unforgiveness in Your Heart
You Might Be Under an Evil Attack
You May Not Have Faith the Size of a Mustard Seed
You Might Be Ignoring the Truth
You Haven't Sincerely Repented
You're Not Being Persistent Enough
You're Not Taking What Belongs to You
God has different plans for you
You're not trusting God
(For more information, look inside the presentation of this book)
Get this book now and empower your prayer life by making the changes needed to welcome His Spirit in your heart. It's through His power that you will conquer, so don't let another day go by without the backing of the Holy Ghost!