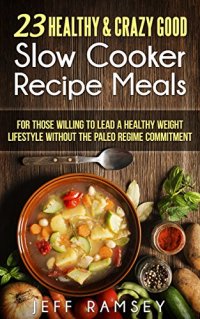 23 Healthy and Crazy Good Slow Cooker Recipes Meals that can be prepared in 30 minutes or less
Do you need an easy way to cook meals that are healthy but don't take a masters in nutrition to figure out?
Don't have enough hours in the day to prepare healthy but crazy good meals that don't leave you feeling wanting more?
Are you tired of the Paleo fad and all these new dieting regimens that have to many strict rules to even remember?
While a paleolithic diet has been shown to be a very effective way for losing weight, spending time in the kitchen figuring the right ingredients can be a challenge.
That's why I created 23 Healthy and Crazy Good Slow Cooker Recipe meals that can be prepared in 30 minutes or less: For those willing to lead a healthy lifestyle without the Paleo Regime Commitment.
Slow cooking or crock pot cooking is quite popular these days, thanks to the large number of benefits that it gives to the user.

A crockpot is a cooker, which cooks food slowly and at very low temperatures. It can be placed on the stove or plugged into an electric source.
This method of cooking is ideal for people who have to rush to work in the mornings and have no time to cook a meal once they get back home.

Cooking in a slow cooker is a blessing as all you need to do is dump all the ingredients together and let the slow cooker work its magic. The best part is you come home to a hot meal, waiting to be devoured. Thanks to the slow cooker, you no longer have to put up with expensive takeaways or unhealthy junk food for dinner.
In addition to the books recipes, this cookbook will:
Give you step-by-step instructions on Slow Cookers and Slow Cooking
Teach you the Benefits of Slow Cooking
Give you some very handy Slow Cooking tips to create dishes with great flavor and mouthwatering appearances
Show you how to cook really tasty and irresistible recipe meals in your crock pot so you don't have to make a mess in your kitchen
These 23 Healthy and Crazy Good Recipes are organized into 4 sections:
Vegetarian
Non-vegetarian
appetizers
Breakfast
This cookbook will help you get started on the right track this instant, and help you reap the rewards of a healthier lifestyle without the hassles of a super strict regime.
Click the "buy now" button and start mastering your slow cooking skills
I look forward to helping you on your journey. Join me on the road to a healthier lifestyle.
– Jeff Ramsey