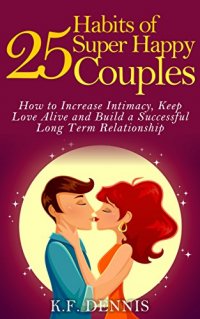 :: Is Your Relationship Going to Last? ::
Just because your relationship isn't perfect doesn't mean you're not in love with your partner and it shouldn't be the reason it ends.
A happy relationship can happen for anyone if you take the time to learn and develop the positive habits that will make real changes in your relationship.
:: Download Your Copy of 25 Habits of Super Happy Couples and Improve Your Relationship Today ::
Inside you'll discover…

How you can know everything about your partner so you can communicate effectively with one another.
How to quickly diffuse any argument and use them as a way to solve problems instead of create more.
How to create a connection so that every moment you spend together is quality time and growth-ensuring way.
How to touch your partner in a way that will bring you closer and stronger as a pair.
How to bring back the spark in your relationship through romantic touching that will make your partner crave for more.
How to use the powerful "Dynamic Duo" to create a stronger connection that you've never felt before!
How much "me time" you and your partner both need to keep the relationship strong and happy!
And much, much more!
This book will show you simple habits you can implement today to make your relationship like it was when you first fell in love.
After getting your copy of "25 Habits of Super Happy Couples", you'll never again have to worry about creating a happy and long-lasting relationship.
:: So, Are You Ready to Have the Relationship You Deserve? ::
Download your copy today and discover the powerful lessons to help you understand your partner on a deeper level!
Scroll to the top of the page and just click buy now button.