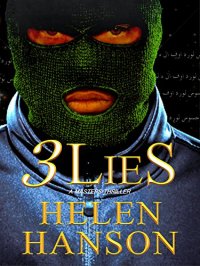 Free on 28th Apr 17 - 2nd May 17


No reviews yet.
~ a #1 Techno Thriller on Kindle ~
The 3 LIES story continues with Book 2 of The Masters CIA Thriller Series — THE MASTERS' KEY.
Come by my website — www.HelenHanson.com — for a FREE thriller . . .
Description:
Terrorists? Or someone more sinister . . .
On hiatus from the corporate treadmill, Clint finds love to last a lifetime in Beth. While she recovers from kidney failure through dialysis, Beth is kidnapped from her home. But Clint's the only one who suspects foul play in her disappearance. In spite of the evidence, her family refuses to admit she's in danger. And without routine dialysis, Beth won't survive.
Five hundred miles south, the case attracts the attention of spy trackers at the CIA. Can Clint find Beth before her kidneys fail or her abductors unload a bullet in his head?
An espionage and suspense thriller with a techno bent, 3 LIES is set along the Massachusetts coast.
Interview with the Author:
Q: What does Helen Hanson bring to the thriller genre?
HH — Heart-skipping pace, life-critical stakes, and broody, looming danger wrapped in a twenty-first century skin. We live in a time when technology surrounds us. The kid down the street has instant access to information unfathomable a century ago. Consequently crime had gone digital, online, and victims rarely see what hit them.
Because of my background, I present the technology employed by my characters in a fluent way to readers. They say I write about techno topics in a way that makes them enjoyable. I don't burden the prose with jargon. Most readers want to know what kind of gun is fired, not how to field strip it.
Q: Tell us about your characters.
HH — My characters are unique beings, each requiring a different spark to light the fire. I explore their sparks.

I create believable characters with realistic dialogue engaged in page-flipping action. I like to watch ordinary people find the extraordinary in themselves when facing adversity. No one is surprised when Jason Bourne takes out a detachment of Marines, but we can't say that about waitress Maggie Fender.
My protagonists don't possess the Special Forces skills of a super spy. They stumble into dangerous situations and use technology to advance their position even if it isn't strictly legal. The stakes have to be worthy of a fight.
Plus, they're witty people who possess veins of humor. As in life, it punctuates disaster.
Q: Where do your thrillers take place?
HH — The action in my thrillers takes place in a variety of locations around the globe. So far, we've landed in: Russia, Boston, San Francisco, Pakistan, Washington D.C., Santa Cruz, Venezuela, Half Moon Bay, and Mongolia. Since the characters across my novels exist in the same story world, they often appear in other works, though the current titles are not a single series.
Q: Do you write your thrillers in series?
HH — At the request of my readers, I am. The sequel to 3 LIES is now out and called THE MASTERS' KEY, with a third volume on deck. After that, I'll expand from DARK POOL and OCEAN OF FEAR because those characters are bound to find new adventures. With an FBI agent, a hacker, and a robotics expert in the lineup, they offer continuous fodder for action and suspense.