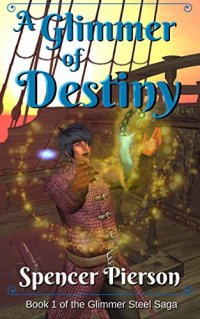 Bargain on 9th - 13th Mar 17



or borrow free on Kindle Unlimited.
No reviews yet.
A Glimmer of Destiny
How can one moment in a young man's life become the turning point between doom and deliverance for an entire world?
Aiden Finn is an orphan, comfortable in his quiet life working at the School of Breen when everything is turned upside down by a casual bet between two young nobles. One that cause him to use the forbidden Glimmer Stones which create constructs of physical light, and by law only nobles are allowed to touch.
Threatened with death by duchy law and evil forces intent on capturing him and his dark secret, Aiden is forced to learn how to control this emerging power to save all that he holds dear. However, will that which saves him also be his world's downfall? The dreaded Mourning Lords, beings that came from the dawn of the Cataclysm four thousand years earlier once more walk the land, searching for an answer to their torment. Will Aiden learn how to become a master of Glimmer Steel or will the mystery of the Cataclysm and the destruction of technology drown him as surely as it nearly cracked the world in half?
A Glimmer of Truth, Book 2 of the Glimmer Stone Saga will be available in September 2016.

A Glimmer of War, Book 3 of the Glimmer Stone Saga will be available January 2017.