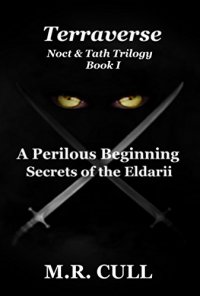 Free on 29th Apr 18 - 3rd May 18



or borrow free on Kindle Unlimited.
No reviews yet.
"She's the Key to everything."
"Eldarii… can you imagine what they'd know?"
"I thought I was done with it all… but now I'm back in the thick of it…"
Long ago, before Humans spread across the globe building massive Empires, the world was populated with beings of pure Magick: The Eldarii.
They were thought to be extinct. However, one has been spotted on the fringes of the Musharii Empire. And everyone wants to get their hands on her. The Eldarii race are the oldest and most mysterious of all of Terra's creatures. Many seek to unlock what they have hidden away.
Nearby, the Immortals, survivors of the fallen City-State of Rakahm, have made a new home for themselves in the forest of Lorzin on the borders of the Empire where all eyes are now transfixed. Within can be found the Immortal named Sechul Sagnar.
Sechul never wanted to be a Hero. He gave up his former identity in favour of being a wayward traveler. But he will have to come out of retirement in order to protect his new home.
Pyke is a simple street orphan in the fringe village of Delstan. Nobody expected he'd go anywhere in life. The kid has dreams though. Dreams that could surpass an Empire's.
These two unlikely Heroes must team up if they are to hope to survive what is to come.
Experience the Beginning of a Saga. The events that started it all. The journey of an Immortal, a Human, and an Eldarii who must stand together or fall to the wayside. The Emperor will not stop until he has his Prize.
This is a story of Legends. A story of how Heroes are not just born…
They are Made.