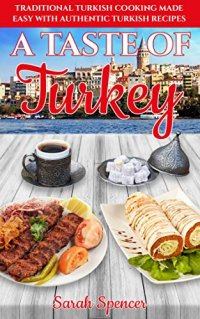 Bring the flavors of Turkey into your kitchen! This collection of authentic Turkish recipes is not only easy to prepare but will amaze everyone around your table with the richness of flavors. Your friends and family will be delighted and ask for more!
Download FREE with Kindle Unlimited!
Discover and enjoy the exotic and diverse flavors that Turkish cuisine has to offer. In this cookbook, you will find authentic recipes and learn about the traditions of Turkish cuisine. Influenced by neighboring cuisines such as Greek, Persian, and even Chinese, Turkish cuisine is uncomplicated yet rich in flavors. Turkey cooking, like its cultural mosaic, is very colorful and contains countless different layers of flavors that have been perfected over centuries.
Without hidden flavor, Turkish cuisine is typically bold in nature. It is about experiencing the flavors of hearty and nutritionally balanced meals. Authentic Turkish food is generally not hot or spicy; instead, it represents clever, careful use of spices and herbs.
Explore the real art of Turkish food with easy-to-prepare breakfast, appetizers, soups, poultry and meat mains courses, fish and seafood meals, vegetarian and sides, and desserts.
Inside this illustrated cookbook, you?ll find:
?All about cooking Turkish food and the ingredients used for cooking authentic Turkish dishes.
?Classic Turkish breakfast recipes like the Tomato and Spinach Eggs and the Yogurt Poached Eggs.
?Delicious appetizers such as the Turkish Shakshuka, the Stuffed Tomato with Eggplant, The Spinach Borek, and the Chicken with Walnuts Dip.
?Heartwarming Soup recipes like the Chicken Vermicelli Soup and the Lentil Potato Soup.
?Mouthwatering main dishes like the Lamb and Beef Koftas, the Turkish Lamb Kebabs, the Stuffed Eggplants, the Turkish Iskender Kebab, and the Chicken Kebabs.
?Delightful Fish and Seafood recipes like the Okra and Fish Stew and the Chickpea Shrimp.
?Tasty vegetarian and side recipes such as the Turkish-style Potato Salad, the Spinach Bulgar Balls, the Turkish Pilaf, and the Zucchini Fritters
?Sweet dessert recipes such as Turkish Baklawa, the Kunefe Cheese Pastry, and the Classic Turkish Delights.
Recipes come with a beautiful image, a detailed list of ingredients, cooking and preparation times, number of servings, easy to follow step-by-step instructions, and nutrition facts per serving.
Read on your favorite devices such as Kindle, iPhone, iPad, Android cellular phone, tablet, laptop, or computer with Amazon's free reading Kindle App.
Let?s get started! Scroll back up and click the BUY NOW button at the top right side of this page for an immediate download!