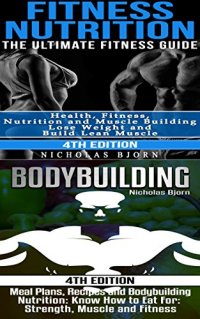 This book will be Free on 13th - 17th Dec 23
Set a Reminder:
Google Calender - Yahoo Calender - Live Calender
---
DO YOU WANT TO KNOW HOW YOU CAN LOSE WEIGHT AND BUILD MUSCLE FAST, STARTING RIGHT NOW? THIS BOOK WILL LET YOU IN ON THE SECRET!
Everyone knows how important it is to maintain a healthy physique. Often, achieving the ideal body requires you to lose weight and build lean muscle. But how do you do that? To become physically fit, you need to have the knowledge necessary to get you on your way and the motivation required to keep you going.
Don't you wish that you can get your hands on an ultimate fitness guide so that you could start understanding your body's needs, lose weight, and stay motivated?
Well, I've got good news for you. This book will teach you how your body works and what it needs to lose those extra pounds so that you could achieve and maintain a fit and toned physique.
Here's what this book has in store for you:
Learn how your body uses calories and what role carbohydrates play in your weightDiscover which foods contain good fats and lean protein that could benefit your bodyDetermine what your meal frequency and caloric intake should beKnow which exercises you should do to get that toned and sculpted look
PLUS:
Alternative exercise optionsDelicious muscle-building recipesEffective natural supplements
You will never be able to get a fitness guide as comprehensive as this book anywhere else. With the knowledge you will gain from this book, you will be on your way to getting the amazing body that you want!
Act right now, and do not delay. Get the results you want immediately!
SCROLL UP AND DOWNLOAD YOUR COPY TODAY!
2 BOOKS IN 1
HAVE YOU BEEN DREAMING SO LONG ABOUT HAVING TONED AND WELL-DEFINED MUSCLES? DO YOU HAVE NO IDEA OF HOW YOU CAN START ACHIEVING THE BODY OF YOUR DREAMS?
The good news is that this book can show you how! Bulking up and maintaining a toned physique cannot be easily accomplished without the right plan and discipline. Most of all, a definitive guide can go a long way in walking you through the steps you need to take to achieve your bodybuilding goals.
You may already have a firm idea of the exercise regimen you need to follow, but do you know what food you need to eat and what meals you need to prepare to get closer to your ideal body?
Don't worry if you don't have any idea because this book has you covered. Although coming up with a bodybuilding exercise regimen can be difficult, I know that preparing a meal plan can be just as daunting. This is why this book makes everything easier for you by providing everything you need to know.
Here's what this book will teach you:
What bodybuilding isWhy bodybuilding is good for youHow you should set your bodybuilding goalsWhat nutrients you need for bodybuildingWhat characteristics your meal plan should have
PLUS! You can read chapters that contain:
Great sample meal plans and recipes for any meal throughout the day, including snacks!What foods prevent you from achieving your goalsThe formula for true successAnd much, much more!
Bodybuilding and meal planning are made a breeze through the tips and sample plans presented in this book. You will never need another guide again.
So don't delay, and get the results you want immediately! DOWNLOAD YOUR COPY TODAY!
*Please note, each book in this bundle is a 4th Edition copy. For the full edition each book needs to be purchased individually