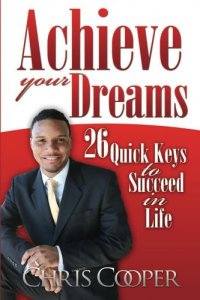 Free on 1st Oct 15



or borrow free on Kindle Unlimited.
No reviews yet.
There are over 6.6 Billion people on Planet Earth. Each of US uniquely created yet, despite OUR physical and even geographical differences, WE are all given the same opportunity to define and choose SUCCESS for OURSELVES! Supercharge YOUR life with this roadmap that provides practical success skills in application for YOUR overall personal and professional development.
Achieve Your Dreams is a blueprint for success comprised of 26 key ingredients designed to motivate YOU to walk in YOUR individual and OUR collective destinies. It is a compilation of principles, true stories, and the author's own personal triumphs and victories, written to encourage YOU to push the envelope and utilize these success skills to better YOURSELF and OUR world!
From A to Z, YOU will discover that YOUR Success is Inevitable, and that Success is YOUR ONLY OPTION. So, Are You Ready? Well buckle up for a thrilling ride!