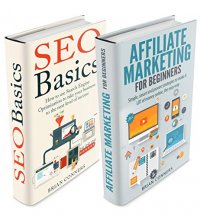 SEO Basics: How to use Search Engine Optimization to take your Business to the next level of Success & Affiliate Marketing for Beginners: How to make A LOT of money online
Learn how to use SEO and Affiliate Marketing
Do you want to optimize your website for search engines but do not know how? Do you want to have an affiliate marketing blog but do not know how to start? Do you want to know how search engines work? Do you want your blog to become an authority? Do you want to generate traffic? Well then, this set of books is for you!
SEO and Affiliate Marketing are two of the hottest buzzwords in the online world today. Making your website optimized and creating an affiliate blog are two of the best decisions that you can make for your online business. With these online tools, you can increase the chances of your business to grow and your profits to soar!
Here Is A Preview Of what you'll learn…
SEO Basics:
Chapter One: What is Search Engine Optimization and how can you use it?

The standard definition for Search Engine Optimization

Chapter Two: How Search Engines Work

Web Crawling and Indexing Difference between Search Engines & Web Directories Stop Words Term Stemming Index Entry Extraction The Working of a Search Engine Page Authority Content Links

Chapter Three: Different Types of Search Engine Optimization

Black Hat SEO How to Avoid Black Hat SEO Key Word Stuffing Doorway Pages Invisible Text White Hat SEO

Chapter Four: How to Optimize your Website/ Page for Search Engines

Chapter Five: Keeping Up with SEO

Chapter Six: Search Engine Optimization and Ranking Tips

Chapter Seven: SEO in a Nutshell
Affiliate Marketing:
Chapter One: Basics of Affiliate Marketing

Red flags A-list networks Secondary networks E-Product networks Indie networks

Chapter Two: How to find a profitable niche

Chapter Three: How to find an affiliate blog in 9 easy steps

Chapter Four: How to become an authority

Chapter Five: Getting traffic in 7 easy steps
Download your copy today!