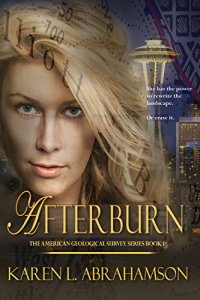 Also Available as:
Print Edition

Vallon Drake, secret agent of the American Geological Survey, finds her latest partner entombed in the wall of a parking garage that didn't exist just a few hours earlier.
The AGS protects America from the changes that foreign terrorists and the Gifted population can make to the landscape, but now Vallon must investigate not only a series of agents deaths, but also a mysterious, desert-scented, stranger with power beyond anything she knows. With his help, Vallon must unravel clues to her own past or leave Seattle the victim of a power beyond even hers to control.
Karen L. Abrahamson puts a modern twist on a Cartographer universe that lays just a half-turn of magic from the real world. A gritty adventure, set in the rainy Seattle streets, Afterburn, takes urban fantasy in a whole new direction. Readers looking for a new kind of magic, colorful characters, and a mysterious stranger to fall in love with, will find Afterburn delivers!
"Afterburn is an exciting and original addition to the urban fantasy genre. A unique form of magic, a hidden and powerful race of beings, and a kick-ass heroine carrying a dark secret–Afterburn will keep you reading long past your bedtime."
— Adrian Phoenix

critically acclaimed author of The Maker's Song series and Black Dust Mambo.