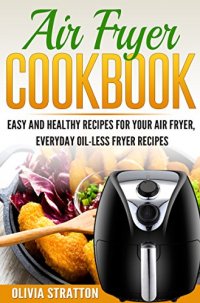 Bargain on 20th - 24th Dec 17



or borrow free on Kindle Unlimited.
No reviews yet.
Have an Air Fryer? Interested in healthy eating and healthy living? Then this Air Fryer Cookbook is just right for You!
Today only, get Air Fryer Cookbook: Easy and Healthy Recipes for Your Air Fryer, Everyday Oilless Fryer Recipes for just $0.99. Use this oilless fryer cookbook to eat and stay healthy!
You can read it on Your PC, Mac, smart phone, tablet or Kindle device.
In this book You will find oilless, easy to cook and proven to work recipes for Your Air Fryer: chicken recipes, vegetarian recipes, seafood recipes, etc. All the recipes are simple and can be cooked with commonly used ingredients. They come with detailed description on how to slice/mix, exact measurements and cooking time/temperature, nutritional information, as well as pictures of what You can expect as a result, and are proven to work just great!
On top of that You will also get tips for Your Air Fryer. By using our Air Fryer Cookbook You will be able to stay healthy, and get Yourself into healthy eating in practically no time.
We guarantee the quality or Your money back!
Check Out What You'll Get
Air Fryer Useful TipsChicken, Turkey RecipesBeef&Pork RecipesVegetarian RecipesSea Food RecipesDessertsEasy To Cook RecipesDetailed Information About Every RecipeAnd More!
Do not waste Your time looking for other options and download Your copy today for a limited time price of only $0.99.
Tags: air fryer cookbook, air fryer recipes, hot air fryer cookbook, air fryer recipe book, air fryer cooking, healthy cookbook, healthy eating, healthy eating cookbook, healthy recipes, healthy living, delicious recipes, oilless fryer, oilless fryer cookbook, chicken recipes, dinner recipes, vegetarian recipes, desserts