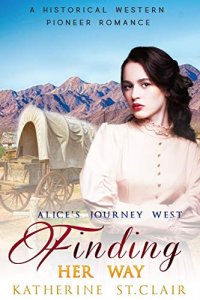 A Sweet Clean and Wholesome Western Pioneer Romance that Will Touch your Heart! Follow Alice?s journey west as she faces challenges that will affect her forever. Will she finally find what she is looking for?
The American Civil war has torn Alice Cleary?s family apart, and cast the children amongst what friends and relations would have them. And though Alice appreciates the home she and her younger brother, Will, have had with her aunt and uncle, when they pressure her to marry an older man for their benefit, she flees to the sanctuary of the church. There, sister Agnes helps to set Alice?s feet on a path that will lead her across the country. In Kansas, Will finds a place on their sister Louisa?s farm, but times are hard and as much as she craves the security of her own people, there is no place for Alice. Her journey lies onward, in the wilds of New Mexico.
After navigating risk and peril, Alice comes into her own. She knows her own mind ? and her own heart. But when it is broken, will Alice have the strength and courage to remain true to herself?
Download FREE with Kindle Unlimited!
Read on your favorite devices such as Kindle, iPhone, iPad, Android cellular phone, tablet, laptop, or computer with Amazon's free reading Kindle App.
Scroll back up and click the BUY NOW button at the top right side of this page for an immediate download!