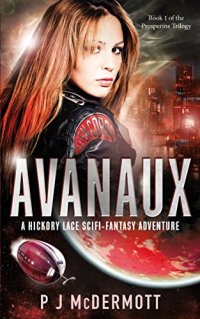 Free on 21st - 23rd Jan 22



or borrow free on Kindle Unlimited.
No reviews yet.
Also Available as:
Print Edition

AD 2179. The planet Prosperine, twenty light years from Earth.
For a hundred years, the Vatican's Alien Corps has combed the universe for signs of the approaching apocalypse. Their search has come to nothing–until now.
Reports from the newly discovered planet, Prosperine, say an extraterrestrial known as the Teacher has been performing miracles. Could he be the Lord of Light predicted by the prophecy?
Hickory Lace, recently reinstated to the rank of commander, is assigned to investigate.
Before Hickory and her team can complete their quest, they discover a plot by the non-aligned worlds to seize the planet's precious fuel source for faster-than-light space travel.
Hickory must find a way to stop the aliens and at the same time determine exactly who the mysterious Teacher is and what he represents.
Avanaux: A Hickory Lace scifi-fantasy adventure is book one of the Prosperine Trilogy.
Book two, Rise of the Erlachi, is available in paperback at most online retailers and as an eBook on Amazon.
Interview with PJ McDermott
Q. What prompted you to write a scifi fantasy novel for young adults?
The idea came from a TV news report of the discovery of an ancient tomb in Jerusalem that some scientists thought to contain the remains of Christ and his family. (This was later discredited.)
I began to hypothesize about the contents of the tomb, and the story came alive on the page.
I love writing young adult and teen space opera. I get a real kick out of conjuring up colourful characters and futuristic plots. This novel blends elements of science fiction and fantasy, and includes a quest to defeat evil, terrifying creatures, an epic journey, and gigantic battle scenes.
Q. What is the greatest joy of writing for you?
I'm fascinated by world building, whether on Earth or in outer space. It's the perfect vehicle for expressing my creativity as a writer. I also like to experience things through the eyes and actions of characters that have strong personalities. Avanaux takes place in Earth's post-apocalyptic future, and Hickory is a female lead with some serious father issues. Blending in a lot of personal detail about my science fiction heroine helps the reader relate to her better and also builds an engaging story.
Q. What do your fans mean to you?
Everything! Without an audience for my work, what is the point? The more fans I have, the better I'll write.
Q. What are you working on next?
The first two books in my scifi fantasy adventure trilogy, Avanaux, and Rise of the Erlachi have been published. I'm now working on book 3, a blockbuster conclusion which will be released mid-2016.
Q. Who is your favorite author?
Not an easy question to answer. There are so many! I enjoy reading all kinds of science fiction. As a schoolboy, I read scifi stories morning, noon and night. Authors such as Asimov, H.G. Wells, Herbert, Niven, Moorcock and Le Guin have all had a great influence on my writing.