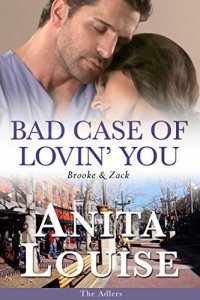 Special Promotion. Now's your chance! Book 1 in the Adler Series, Just the Way You Are is #FREE. For a limited time, you can get your copy of Book 2, Bad Case of Lovin' You for ONLY $0.99 instead of $2.99. If you like Bella Andre and Jill Shalvis, you'll enjoy Anita Louise.
Zack Carter works long hours as an emergency room physician in Boulder, and he has no time for romance. Besides, he doesn't trust women. His engagement to his high school sweetheart ended when he found her in bed with another man. He knows better than to open himself up again. But the first time he sees Brooke Adler, she practically takes his breath away.
When Brooke Adler's mother ends up in the hospital, the last thing in the world Brooke expects to find is love. But when Dr. Zackary Carter walks into the cafeteria, she thinks she might have found her own personal Doctor McDreamy.
Zack and Brooke meet again in the popular Pearl Street Mall in downtown Boulder and sparks fly. Now he can't seem to stop thinking about her. But Brooke can't seem to get past the fact that males have been choosing her flamboyant twin over her since they were six years old. Can she expect anything different from the handsome doctor?
Intended for mature audiences 18 years of age and older.