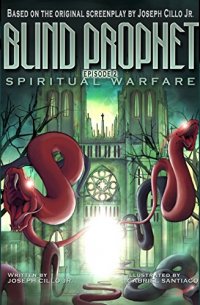 Free on 30th - 31st May 17



or borrow free on Kindle Unlimited.
No reviews yet.
FOR ALL THE SUPERHEROES WHO NEVER WERE GIVEN A CHANCE…
Have you ever thought
o about why people do the evil that the do? Or the good?
o that maybe the serpent in the Garden of Eden may not have been just a character in a story meant to frighten people into behaving well?
o that the spiritual battle within the soul may actually involve spiritual entities in an unseen moral dimension, rather than just the psychology in the individual's mind?
In Blind Prophet, Episode 2: Spiritual Warfare, such a moral dimension becomes more and more visible to our unlikely hero, Daniel Prophet, born both blind and autistic, as he learns more about his mysterious new power to peer into the spiritual realm.
The visions of spiritual warfare become more vivid and terrifying, as the boy and his mother leave the hospital behind and journey toward home. Passing a church on the way, they encounter a new friend who begins to explain what the visions might mean.
Welcome, once again, to Blind Prophet!
Hi!
My name is Joseph Cillo, Jr. In this second installment in our story, we gain more knowledge of how the moral dimension operates, and how to interpret the visions that are so critical to the story. I have been careful to create the first three episodes so that the reader can easily begin with any of the first three and have enough knowledge to understand how the universe operates and what is going one. In fact, I considered starting with Episode 3, which would give a more exciting comic book entry point into the story, and then to go back and tell episodes 1 and 2 to fill in the details, but decided the building of the story to a crescendo in Episode 4 when the demons larger plot becomes visible was just too good to sacrifice to the shorter attention spans in modern comic book readers.
So we will continue to build, but readers who like to start with more action can easily begin with Episode 2 or Episode 3, and go back for the earlier episodes. So, feel free to jump right in with Episode 2!