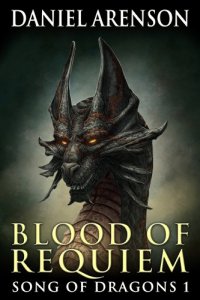 Love dark, epic fantasy like A Game of Thrones by George R. R. Martin? You'll love Song of Dragons, a fantasy series about blood, steel, and dragonfire.
BOOK ONE: BLOOD OF REQUIEM
Long ago stood the kingdom of Requiem, a land of men who could grow wings and scales, breathe fire, and take flight as dragons. Requiem ruled the sky.
But Dies Irae, a tyrant leading an army of griffins, hunted Requiem's people, burned their forests, and shattered their temples. Requiem fell. This ancient land now lies in ruin, its halls crumbled, its cries silenced, its skeletons littering the burned earth.
In the wilderness, a scattering of survivors lives in hiding. The griffins still hunt them, and every day promises death. Will Requiem's last children perish in exile… or once more become dragons and fly to war?
Blood of Requiem: Free epic fantasy for fans of dragons and adventure.