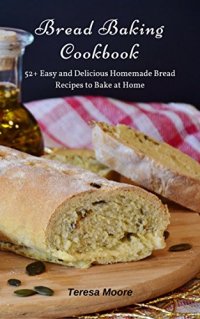 Bread Baking Cookbook: 52+ Easy and Delicious Homemade Bread Recipes to Bake at Home
Today only, get this Kindle book.
Read on your PC, Mac, smartphone, tablet or Kindle device.
Baking bread. This is my favorite hobby, thanks to which, my family and I learned the taste and aroma of real natural bread without industrial yeast and other chemical additives.
  In this book, I with great pleasure will share with you several recipes of wonderful types of bread baked in the most ordinary kitchen in the most ordinary oven. My, already considerable experience of bakery showed me that there is nothing difficult in baking bread at home.
Here Is A Preview Of What You'll Learn…
English bread pudding
Bread basket from carrot
Irish rye-wheat bread
Cheese and garlic bread with greens
Pumpkin bread with ginger
Bread with olives
Don't delay any more seconds, scroll back up, DOWNLOAD your copy TODAY and start cooking today!