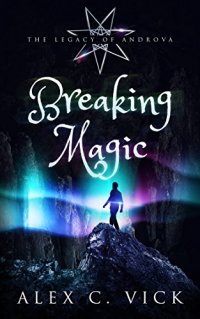 Free on 4th Dec 18



or borrow free on Kindle Unlimited.
No reviews yet.
Callax is fifteen, and he already knows he won't ever grow old. Twelve years after leaving the childstation he will be summoned to the Gathering, where life essences are taken by a deadly, irresistible spell. On his world, this is one of the many ways in which the Exta serve the Opta. His best hope is to avoid an early binding by staying out of trouble.
But in protecting his younger brother Benedar, he was noticed by the Breaker, the evil magician in charge of the Gathering. The closer Callax gets to the ruling house and the girl who lives there, the more he learns, and the greater the danger. A danger he might not understand until it is too late. Callax thinks the Breaker's defeat will save him, but he is wrong.
Additional information: Although Breaking Magic is part of the Legacy of Androva series, it can also be read independently. If you have read Controlling Magic and want to know more about Imbera, Breaking Magic is Cal's story. The book retells part of Controlling Magic from Cal's point of view. Recommended for lower young adult.
Book 1: Stealing Magic
Book 2: Capturing Magic
Book 3: Seeking Magic
Book 4: Controlling Magic
Book 5: Breaking Magic
Book 6: Surviving Magic