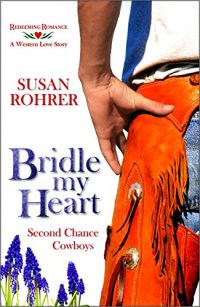 Free on 21st - 23rd Oct 14


No reviews yet.
This book appears to be unavailable on Amazon.co.uk at the current time. If this is incorrect, please let us know here
Will another cowboy steal Jillian's heart?
Jillian Marsh knows what it's like to tangle with a Texan all too well. She's been cheated on and deserted by a rogue of a cowboy who should have known better. When the ink dries on their divorce settlement, all Jillian has to show for it is the deed to her late ex-father-in-law's dilapidated horse ranch in a tiny tornado torn town.
A Philadelphia real estate agent, Jillian makes her lovesick teen daughter, Danielle, a promise. They'll travel from Philly to Texas, just long enough to flip the ranch and sell it. It's the only way Jillian can pay for Dani's return to the academy next term, the high school Dani's boyfriend also attends.
Jillian's father, Emmett, an ageing contractor, gamely volunteers his expertise as the trio ventures southwest for the summer. No doubt, these city slickers will be fish out of water in that tiny Texas town. Jillian steels herself for the hard work renovating that turkey of a homestead will require. But what Jillian doesn't count on is dealing with the squatters who have taken up residence on the spread, or the second chance at love that time on a Texas horse ranch could bring.
Still smarting over her ex, Jillian is hardly ready to trust another man in a cowboy hat, much less get into a love triangle between two cowboys. But dashing land baron, Ray Hightower, isn't shy about his romantic pursuit of her. Ray's antithesis, Luke Taylor, isn't as quick to stake a claim, but something about the mild-mannered horse ranch farmer quietly competes for Jillian's affections. With the Texas moonlight conspiring against her, it'll be all Jillian can do to keep her promise to Dani that they'll return to Philly by fall. When love comes calling the second time around, will Jillian be able to bridle her heart?
REDEEMING ROMANCE is an anthology series, a collection of clean, inspirational love stories based on Susan Rohrer's screenplays. Bridle My Heart is the fifth stand alone novel in this women's fiction series, a contemporary romantic western.
Click above to start reading Bridle My Heart – A Western Love Story: Second Chance Cowboys today!